DARCO's Philosophy
Research and Development from Experience: Basis for Innovative Products

"For my father, his greatest professional achievement is that every day he did his best to ease the suffering of those who walked through his door."
Darrel Darby, CEO of DARCO International:
Remarks on the occasion of the DSC Distinguished Service Citation posthumous award in honour of his father Darrel Darby, DPM.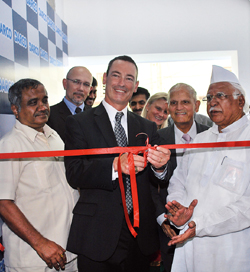 DARCO's guideline "Innovation in Foot Care Technology" enables us to expand professional knowledge all over the world. A large number of DARCO's training programs and medical works represent modern research providing new and innovative material for physicians and medical experts.
DARCO directly exchanges knowledge and developments with the most experienced foot surgeons due to its strong engagement in the independent Society for Foot Surgery.
An innovative product calls for surpassing the current level of knowledge. We communicate with leading experts worldwide for intensifying the flow of information on foot surgery by cooperatively collaborating as well as organizing informative events. Thus, it is possible for us to integrate the latest developments and experiences into our Foot and Ankle Products in order to maintain our solid basis - this is our challenge.


Do you need further information?
DARCO India - Our new websites
The intention of our internet appearance is to offer you an accurate picture of the scope, character and quality of our product range: DARCO offers a full product line of footwear specifically designed to control plantar pressure after surgery or in cases where wounds or diabetic ulcers are present on the foot.
DARCO products are available in the following product groups: Postoperative Care, Trauma Care, Diabetes | Off-loading & Wound Care, Plantar Fasciitis Products, Ankle Supports, Pediatric Care and Diagnostic Products. For further information e.g. catalogues, flyers or instructions for use please visit our rubric "Downloads".
Are you a patient?
Please approach our distributors in India.
Are you a professional health care provider?
Please send a E-mail: info@darco.in. Or call us at: +91 8362747446
In every case, we are looking forward to answering your questions!