Diabetes | Off-loading and Wound Care
Overview Off-loading and Wound Care Products
Technical Information: You have not activated Javascript.

If you wish to see the dynamic product gallery, which is supposed to emerge here,
please activate your browser with Javascript.

The dynamic product gallery cannot be presented in print version.
Please visit our website for this presentation.
For direct access to a specific product site, please click on the relevant picture

Diabetes: How can I deal with foot ulceration?
What kind of Prevention is possible?
Pressure points and foot ulcers occur most frequently with diabetes and present a great challenge in healing and offloading sensitive feet.
After observation of the ulceration and treatment of the wound it is of utmost importance to care for pressure relief and offloading by means of an individually adjustable device. The intention is to pay attention to the improvement of the healing porcess as well as to the restoration of the patient's mobility.
DARCO therefore has especially focused on diabetic foot and ankle care. Our devices help to prevent the development of wounds and ulcers as well as to encourage and fasten the healing process of existing wounds.
We would be pleased to inform you on our different diabetic foot care orthetics with regard to application and handling. Please refer to the product navigation on the left, where you will find detailed information on our single products.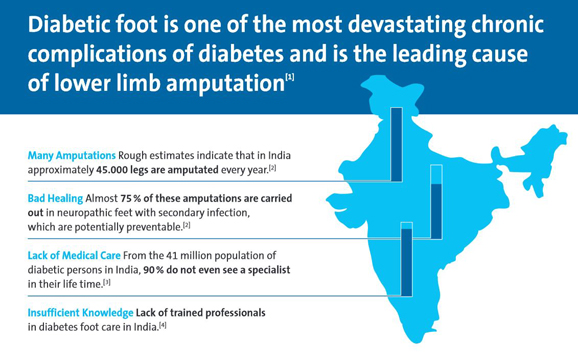 References:
[1] Boulton, AJ.; Vileikyte, L; Ragnarson-Tennvall, G., et al., (2005) "The global burden of diabetic foot disease", Lancet, 366, pp. 1678-1679;
[2] [3] Pendsey, SP. (2010) "Clinical Profile of Diabetic Foot in India", The International Journal of Lower Extremity Wounds, 9(4), pp. 180-184
[4] Pendsey, SP.; Abbas, ZG (2007) "The Step-by-Step Program for reducing diabetic foot problems. A model for the developing world", Current Diabetes Reports, 7, pp. 425-428

The Diabetic Foot
- What is that?
Diabetes mellitus means that the human body suffers from a deterioration of metabolic quality. In the long run an elevated blood sugar level will damage all blood vessels of the human body. It is presumed that after a period of 10 years the metabolism might suffer from secondary damages due to its bad status.
About 20 to 30 % of the patients have developed a diabetic neuropathy (nerve disease) occuring with the illness of a diabetic foot. One of five up to one of ten diabetic patients is suffering from neuropathy. The consequence might be amputation.
Prior to the development of ulcers, a neuropathic foot can be recognized due to its typical warning signs encompassing an unusual dryness of the foot's skin, which usually feels sligthly moist and smooth. Firm calluses at pressure points might also be a warning.
In summary, the neuropatic foot is characterized by:
· Reduced pain and temperature sensation · Reduced sensibility · Hurting or burning feet · Ulceration at the plantar surface of the foot · Calluses · Warm and rosy feet · Water retention (edema)
And last but not least: As the human kind has only two feet available, especially diabetics have to pay attention. This does not only include correct foot care, but also the right shoe. By regularly visiting a specialist and permanent self-control you are able to improve your qualitiy of life extensively.

Do you need further information?
DARCO India - Our new websites
The intention of our internet appearance is to offer you an accurate picture of the scope, character and quality of our product range: DARCO offers a full product line of footwear specifically designed to control plantar pressure after surgery or in cases where wounds or diabetic ulcers are present on the foot.
DARCO products are available in the following product groups: Postoperative Care, Trauma Care, Diabetes | Off-loading & Wound Care, Plantar Fasciitis Products, Ankle Supports, Pediatric Care and Diagnostic Products. For further information e.g. catalogues, flyers or instructions for use please visit our rubric "Downloads".
Are you a patient?
Please approach our distributors in India.
Are you a professional health care provider?
Please send a E-mail: info@darco.in. Or call us at: +91 8362747446
In every case, we are looking forward to answering your questions!