More in-depth information on this product was high-lighted in DARCO India Innovation E-News, Issue 9.
Click here to download the (PDF) print version
. Or visit our
Expertise Tab
.
Body Armor® Sport
Ankle Support
For post-traumatic and preventive care of the capsular ligaments of the ankle
For the post-traumatic and preventive care of the capsular ligaments of the ankle

Perfect stability along with controlled mobility


3 Sizes: S, M, L

for right and left side available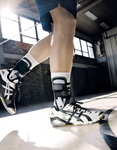 The Body Armor
®
Sport is an ankle joint orthosis which is applied during the acute phase of injury as well as during the process of rehabilitation. The lower part of the insole (soft-pad) is mainly intended for padding the injured ankle and may be cut off at the marked segments after the ankle has healed. Two hook and loop fasteners warrant a smooth and easy but firm position of the foot. The talus shift strap helps to prevent talar shift.
Further Information:
Download: User Manual Body Armor® Sport Ankle Support (PDF)
Download: DARCO Product Catalogue "Orthopaedic Devices, Foot and Ankle Products" (PDF)
Your direct Contact at DARCO Medical India

Do you need further information?
DARCO India - Our new websites
The intention of our internet appearance is to offer you an accurate picture of the scope, character and quality of our product range: DARCO offers a full product line of footwear specifically designed to control plantar pressure after surgery or in cases where wounds or diabetic ulcers are present on the foot.
DARCO products are available in the following product groups: Postoperative Care, Trauma Care, Diabetes | Off-loading & Wound Care, Plantar Fasciitis Products, Ankle Supports, Pediatric Care and Diagnostic Products. For further information e.g. catalogues, flyers or instructions for use please visit our rubric "Downloads".
Are you a patient?
Please approach our distributors in India.
Are you a professional health care provider?
Please send a E-mail: info@darco.in. Or call us at: +91 8362747446
In every case, we are looking forward to answering your questions!