More in-depth information on this product was high-lighted in DARCO India Innovation E-News, Issue 9.
Click here to download the (PDF) print version
. Or visit our
Expertise Tab
.
Web Ankle Brace
Ankle Support
Support or prevention of injuries during sports or in everyday life.
As well as a supportive measure in minor acute ankle injuries.

5 Sizes: XS, S, M, L, XL

right and left fit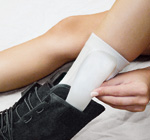 The Web™ Ankle Brace is a true convertible ankle brace. The bungee closure provides superior compression and allows for adjustments on the run. Removable medial and lateral stays are rigid enough to provide controlled restriction of inversion / eversion. Durable ballistic nylon shell is breathable and conforms to the foot for a comfortable fit. The brace is constructed of a durable vinyl shell - easy to get in and thin enough to wear with athletic shoes or casual dress shoes.
Picture: Removable medial and lateral rigid stays.
Visit our product demonstration video:
Further Information:
Download: User Manual Web™ Ankle Brace (PDF)
Download: DARCO Product Catalogue "Orthopaedic Devices, Foot and Ankle Products" (PDF)
Your direct Contact at DARCO Medical India

Do you need further information?
DARCO India - Our new websites
The intention of our internet appearance is to offer you an accurate picture of the scope, character and quality of our product range: DARCO offers a full product line of footwear specifically designed to control plantar pressure after surgery or in cases where wounds or diabetic ulcers are present on the foot.
DARCO products are available in the following product groups: Postoperative Care, Trauma Care, Diabetes | Off-loading & Wound Care, Plantar Fasciitis Products, Ankle Supports, Pediatric Care and Diagnostic Products. For further information e.g. catalogues, flyers or instructions for use please visit our rubric "Downloads".
Are you a patient?
Please approach our distributors in India.
Are you a professional health care provider?
Please send a E-mail: info@darco.in. Or call us at: +91 8362747446
In every case, we are looking forward to answering your questions!