DARCO Worldwide
USA - Europe - United Kingdom - India - China

"Every 9 seconds somewhere in the world
a foot and ankle specialist prescribes a DARCO product."
Darrel Darby, global CEO DARCO International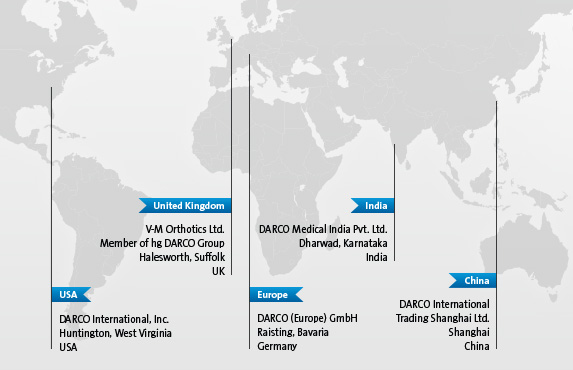 USA:

DARCO International, Inc
810 Memorial Boulevard
Huntington, WV 25701
United States of America


United Kingdom:

V-M Orthotics Ltd.
Member of hg DARCO Group
Unit 25
Halesworth Business Centre
Norwich Road
Halesworth
Suffolk IP19 8QJ
United Kingdom


India:

DARCO Medical India Pvt. Ltd.
# 32A1B1/A1, First Floor
Vaibhav Complex
Opp to District Court, P. B. Road
Dharwad 580 008, Karnataka
India

Web: https://www.darco.in


China:

DARCO International Trading (Shanghai) Co., Ltd.
Room 105, Building 4, No. 535
Shennan Road, Minhang District
201108 Shanghai
China

Do you need further information?
DARCO India - Our new websites
The intention of our internet appearance is to offer you an accurate picture of the scope, character and quality of our product range: DARCO offers a full product line of footwear specifically designed to control plantar pressure after surgery or in cases where wounds or diabetic ulcers are present on the foot.
DARCO products are available in the following product groups: Postoperative Care, Trauma Care, Diabetes | Off-loading & Wound Care, Plantar Fasciitis Products, Ankle Supports, Pediatric Care and Diagnostic Products. For further information e.g. catalogues, flyers or instructions for use please visit our rubric "Downloads".
Are you a patient?
Please approach our distributors in India.
Are you a professional health care provider?
Please send a E-mail: info@darco.in. Or call us at: +91 8362747446
In every case, we are looking forward to answering your questions!