More in-depth information on this product was high-lighted in DARCO India Innovation E-News, Issue 15.
Click here to download the (PDF) print version
. Or visit our
Expertise Tab
.

WCS™ Closed-Toe
Wound Care Shoe System

For treatment of diabetic foot syndrome
for treatment of diabetic foot syndrome

for healing of open wounds and minor ulcerations

for pressure relief

wide toe box for any remaining bandages

7 Sizes: XS, S, S / M, M, L, XL, XXL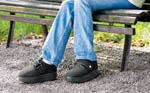 The WCS™ Closed-Toe Wound Care Shoe system can be customized individually for off-loading. The proven quadruple layered and removable insoles enable a selective creation of plantar off-loading zones. The high heel counter provides rear foot stability and the toe upper is made of a soft, elastic, seamless and breathable material for a comfortable fitting. The extra space in the toe area accommodates light bandages and deformities. The WCS™ Closed-Toe Shoe incorporates a rocker bottom sole to provide a physiologically correct gait. For indoor and outdoor.
Further Information:
Download: Flyer "WCS™ Closed-Toe Wound Care Shoe System" (PDF)
Download: User Manual WCS™ Closed-Toe Wound Care Shoe System (PDF)
Download: DARCO Product Catalogue "Orthopaedic Devices, Foot and Ankle Products" (PDF)
Your direct Contact at DARCO Medical India
Exchangeable insole:
WCS™ Insoles:

For further treatment and if lesions are changing, the four layers can be ordered separately.

Do you need further information?
DARCO India - Our new websites
The intention of our internet appearance is to offer you an accurate picture of the scope, character and quality of our product range: DARCO offers a full product line of footwear specifically designed to control plantar pressure after surgery or in cases where wounds or diabetic ulcers are present on the foot.
DARCO products are available in the following product groups: Postoperative Care, Trauma Care, Diabetes | Off-loading & Wound Care, Plantar Fasciitis Products, Ankle Supports, Pediatric Care and Diagnostic Products. For further information e.g. catalogues, flyers or instructions for use please visit our rubric "Downloads".
Are you a patient?
Please approach our distributors in India.
Are you a professional health care provider?
Please send a E-mail: info@darco.in. Or call us at: +91 8362747446
In every case, we are looking forward to answering your questions!